Our Story
About the original Sloughgrass band                                           The 2019 Sloughgrass band bio Below
The Sloughgrass band, from Birchdale, Minnesota, is a family affair with Grandma Audrey Nelson setting the rhythm on the upright bass. Her two daughters, Christine Hultman and Judith Nelson, one or two of the sons-in-law and one or two of her grandchildren, sometimes a third, a cousin or some friends also join the band. Everyone in the family started learning to play their instruments around the same time back in 2002 from a traveling teacher, Dale Blatter, who would stop by grandma's house every other Monday night. Eventually they looked around the living room and realized that they had a band even though that had never been the intention. The band's music is a blend of Bluegrass, Gospel, Country, Old-time, Scandinavian, and Folk music. All of the group members take turns on the vocal and instrumental pieces. The group's spokes person Søren emigrated from Denmark 1989 and married Audrey's youngest daughter Judith. Christine the older sister married David who grew up in International Falls. They all reside as the fourth generation in the hamlet of Birchdale, Minnesota, a small unincorporated town in far northern Koochiching County situated on the banks of the Rainy River half-way between International Falls and Baudette.
    Sloughgrass has performed throughout Minnesota at a wide variety of events since about 2003 including: numerous celebrations, The Minnesota State Fair, The Rollag Steam Threshers Show, The Blackduck Bluegrass Festival, Bemidji Winter Bluegrass Weekend, International Falls Bandstand Summer Concerts, Timber Producers Annual Expo, The Minnesota Governor's Fishing Opener 2006, the Minnesota Bluegrass & Old-time Music Association's August Festivals & their Winter Bluegrass Weekends, the Duluth Cabin Fever Festival, and also at Brown's Ole Opry in North Carolina, the Frozen Fingers Festival in Minot, ND and other North Dakota locations, MBOTMA Community Concerts, The International Peace Pull and the Harmony of Nations Festival in Ontario Canada. In 2004 the band also performed at the Blomster Festival in Roskilde, Denmark. The band was the featured artist on www.Ampers.org radio in March 2011 and has performed live on several radio shows including 3 times on Garage Logic ESPN AM 1500 in St. Paul, MN. A feature article about Sloughgrass was in the April 2012 issue of the magazine "Simply North" published by Northstar publishing in International Falls, MN. In March of 2012 Sloughgrass was lucky to be invited to be part of the "Prairie Musicians" PBS series filmed at the Fargo Prairie Public PBS studio it is now available online at this link www.Youtube.com/PrairiePublicBcast.
2005 Sloughgrass released their first CD "Down The Road". It was recorded live at Bemidji Music Center, Bemidji, MN.
In July of 2007 Sloughgrass released their second CD "Are we There Yet?" which was recorded live in their hometown church in Birchdale, MN.
In the summer of 2011 Sloughgrass released their third CD "Not Quite There", which was recorded live at Kezar Music in Thief River Falls, MN, in April of 2011.
The young people in the band with friend and cousin Maria Lewis also had their own band, Ditchgrade. They released a Demo CD in the summer of 2011.
In August 2012 Gary Hultman began his undergraduate studies at East Tennessee State University in Johnson City TN, to pursue a degree in Bluegrass, Old-time and Country music. Gary has shared the stage and played with Bluegrass greats such as Doyle Lawson, Tim Stafford, Adam Steffey, Ron Steward, Keith Garret and Ricky Skaggs. He also played with the ETSU Bluegrass Pride band and was able to tour in Japan for two weeks during June of 2014 with that band. In June of 2014 Gary was hired by The Boxcars (http://www.theboxcars.com) and started touring with them while still completing his studies at ETSU. The Boxcars first CD with Gary was released in 2015 and they are currently working on another CD.
Holger and Sofia started a band in 2014 with another sibling pair, Derek and Sarah Birkeland, their band Ditch Creek play throughout Minnesota. Find them on Facebook.

Since 2013 Sofia has been pursuing degrees in Nursing as an RN and Physology at Concordia College in Moorhead and joins the band occasionally when she is available. 
In August 2017 Holger Olesen followed in the footsteps of Gary and moved to East Tennessee.  Having played and toured with the award winning bluegrass band Porcupine Creek since 2012 he decided to pursue his interest in Engineering and Bluegrass music by enrolling at East Tennessee State University in Johnson City (ETSU) where he can major with degrees in both Engineering Technology and in Bluegrass, Country and Old Time Music. Holger is excited to be joining the ETSU Bluegrass Gospel band in his first semester at the college.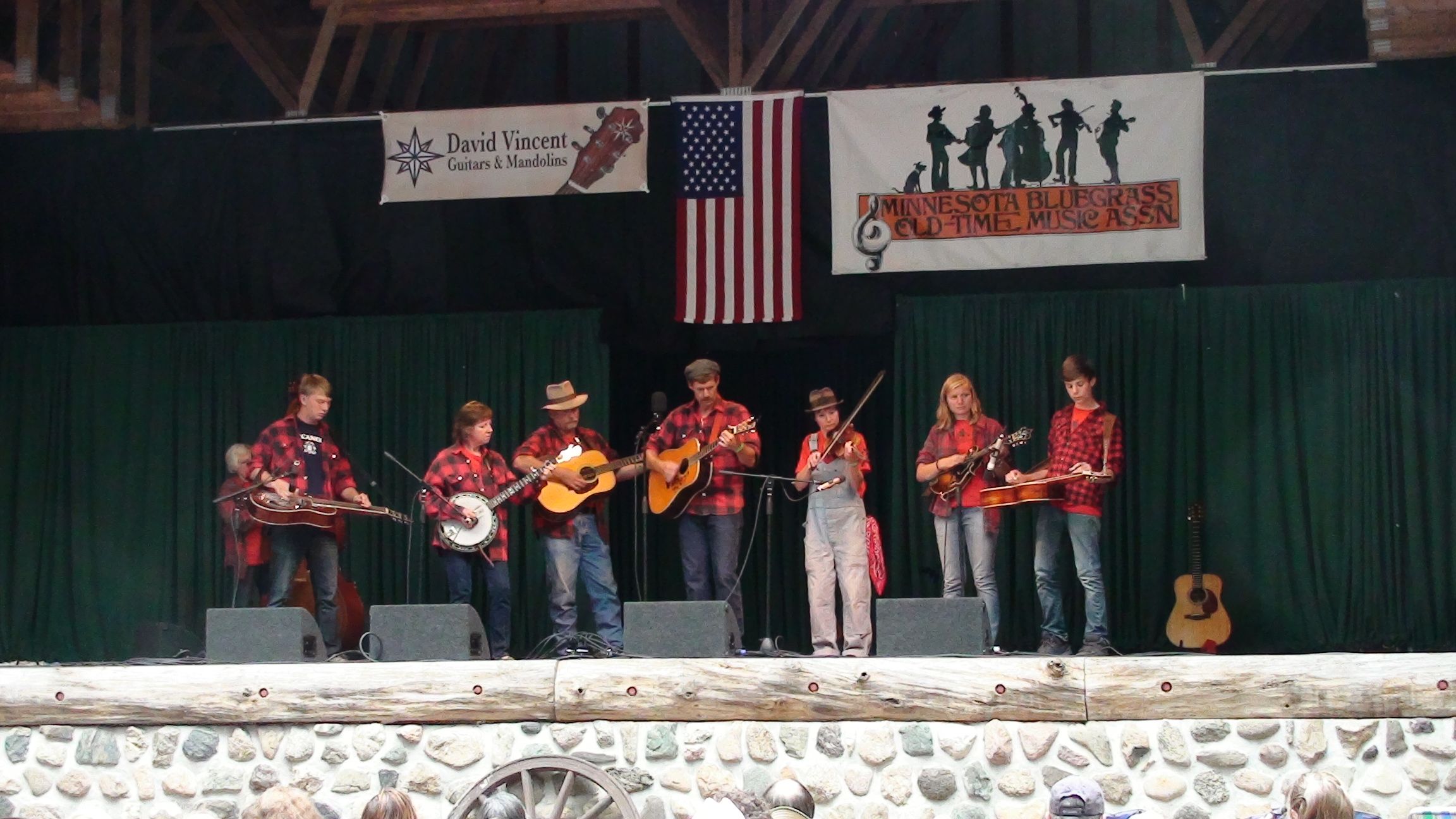 Holger has his own web-site http://wwww.holgerolesen.com
The Sloughgrass band members are: Audrey Nelson, upright bass; Judith Nelson, fiddle, vocals, rhythm guitar; Søren Olesen, mandolin, rhythm guitar, vocals; Sofia Olesen, Christine Hultman, banjo, vocals; Dave Hultman, rhythm guitar, vocals and a variety of talented Artists that we bring in as needed.
The current band 2019
The Sloughgrass band has evolved over the years as our children grew up and moved to different parts of the country and Grandma Audrey passed away. Now we play with just the four "parents" and often guests musicians. We feel very blessed to still be able to make music together and share it with others. Mostly when the band plays these days it is in configurations involving Judith Nelson on vocals, rhythm guitar and fiddle,  Christine Hultman on vocals and banjo, Soren Olesen on guitar, mandolin and vocals, David Hultman on vocals and rhythm guitar, Sofia Olesen on fiddle and mandolin, Gary Hooker on Dobro and lead guitar, Brian Parmeter or Delane Baumchen on bass and Craig Schmidt on drums.  Holger Olesen also joins the band when he is home from his Bluegrass music studies in East Tennessee. The band performs its music which is a blend of Bluegrass, Country, Americana, Gospel and original tunes at all sorts of venues throughout Minnesota and neighboring states. It has also performed in North Carolina, Kentucky and overseas in Denmark.  Over the years Sloughgrass recorded three CD's and a Prairie Public PBS TV show and made numerous appearances on the radio.  Once their music was played on the radio in Sweden. All the new members of the band have numerous years of experience touring and performing with professional bands and are a great addition to the Sloughgrass band.